April 14, 2019 (Tenrikyo 182)
Honjima Grand Church Head Ministers' Meeting
Let us look back on the origin of our faith with our children
Rev. Kanta Katayama
Honjima Grand Church Head Minister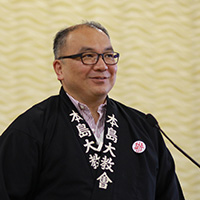 (Summary)
On April 28th this year, it was 150 years since the birth of our second grand church head minister, Rev. Yoshizo Katayama. That is why I have been thinking about the origin of our family's faith. I feel that Rev. Yoshizo has been throwing various questions at me.
For example, have I been doing salvation work? Have I been praying for people to be saved from various illnesses and problems? Have I been making efforts in my mind in order for those prayers to be accepted by God the Parent? Am I not giving up?
The great mission for us Yoboku is to do salvation work. How seriously are we engaging in this salvation work?
My great grandfather Yoshizo was told by doctors, "He won't be able to live much longer," but was saved by the missionary Rev. Eisa Sato of Koshinokuni Branch Church.
At first, since Yoshizo did not believe in Tenrikyo, he did not accept the administration of the Sazuke when Rev. Eisa Sato asked to administer it. However, Rev. Eisa did not give up. He performed prayer services with all his might so that Yoshizo would listen to him and God the Parent could work for him. At times, he performed the Twelve Songs of the prayer service in the cold ocean of Kosho, and finally, he offered his life and asked that Yoshizo be saved. His will with such inscription still remains at Honjima Grand Church.
Saving someone is not an ordinary deed. Am I getting closer to such a state? I feel like I am being asked this question.
After that, due to Rev. Eisa's sincerity, Yoshizo's mind changed a little by little, and finally transformed into one of single-heartedness with God. Furthermore, God the Parent accepted Rev. Eisa's sincerity and they received miraculous blessings, leading to the present state.
I hope that you will take this opportunity to look back on the day of origin of our faith and relay this to the head minister's children and let us engage in salvation work.
(Edited by Honjima Tsushin Editorial Staff)