April 14, 2018 (Tenrikyo 181)
Honjima Grand Church Head Ministers' Meeting
I'm grateful for the Path
I'm grateful for churches
Rev. Kanta Katayama
Honjima Grand Church Head Minister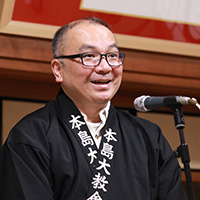 (Summary)
Today, I will relay a story that made me think, "I'm grateful for The Path, I'm grateful for churches."
When I go to a church for a mission visit, I can see the children's growth at the church. There is a girl who has Down syndrome at the church I visited this month. When I visited the church last time, she was in elementary school, and she was sitting next to the head minister of the church at their monthly service performing the role of singer #2. The head minister would tap her on her knees and back keeping the rhythm of the service, and she was able to perform in the monthly service.
She is attending middle school from this spring. I didn't see her sitting in her spot as the singer at the monthly service this time. Looking for her, I found that she was playing the cymbals on her own.
I am grateful for this Path. I was so moved that God the Parent is nurturing her. She has matured and is able to play the instrument by herself now.
Later, she was playing with one of the head ministers of a subordinate church before evening service. Then, after the service, I heard her say to that minister, "Tomorrow, I have school. So, I can't play."
Having been brought up in a church and an environment where helping others is the norm, she has cultivated a mind to empathize with others. This gave me a warm feeling. I'm so grateful of this Path.
Thank you for your kind attention.
(Edited by Honjima Tsushin Editorial Staff)