May 22, 2019 (Tenrikyo 182)
Honjima Grand Church Head Ministers' Meeting
The parental heart is a gentle heart
Rev. Kanta Katayama
Honjima Grand Church Head Minister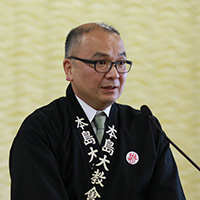 (Summary)
The Tenrikyo Women's Association will welcome its 110th Anniversary since its establishment next year, and the activities leading up to it are becoming ramped up. I hope you will demonstrate a women's virtue to the fullest and serve in your respective roles.
By the way, did you know that black tea is made from the same tealeaf as green tea? By the difference in the manufacturing method of fermentation, it becomes either green tea or black tea. I have heard that the best flavor for green tea is achieved by using boiled water that has cooled down just a bit. On the other hand, for black tea, pouring in very hot water which has been boiled 30 seconds more makes the tea taste delicious.
I think God also gives us characteristics that suit each of us. For example, taking architecture as an example, each tree could become a good pillar, floorboard or ceiling board. Likewise, I think God nurtures us with consideration of the best strength in each of us.
I think also that it is a good opportunity for the women's association to ponder what God the Parent is asking of us.
Rev. Yoichiro Miyamori, Director-in-Chief of Religious Affairs, gave us a message at this year's Women's Association Convention. These are some examples he gave.
Please take a moment and imagine that you are at your child's Sports Day ―for some of you, maybe it's for your grand child. Anyway, your child, grandchild or great grandchild is competing. Finally, the footrace has begun, and your child is running dead last. You cheered for him really hard, but he barely made it to the goal line, greatly outdistanced by his classmates, and then he came back to you.
What are you going to say to the child? Are you going to say, "All that cheering for nothing" and express your disappointment? Are you going to ask him, "Why did you come in last?" Are you going to say, "You're an embarrassment. You're not my child," and ignore him?
You probably wouldn't do such things. Instead, I am pretty sure that you would say something like, "You never gave up," and speak highly of finishing the race. If he is looking sad, you will probably give him a hug. If he is crying, you will probably quietly give him a pat on his back.
Such kindness is indeed the parental heart.
After relaying these examples, Rev. Miyamori cited the following Divine Directions:
Kindness is the basis that enables you to nurture people's minds.(Osashizu: May 16, 1900)
Let us focus on saying kind words to others.
The Children's Pilgrimage is finally around the corner.
Of course it is important to nurture the youth who hold the future in their hands. At the same time, I feel that your other church members, their families, those around them and those who are unfamiliar with the Path, all have the ability to be of service by contributing toward the construction of the Joyous life. We must find them, draw out and polish their qualities, and guide them so that this person so as to enable them to be of necessary service to others.
I would like to ask for your effort so that we can together nurture our human resources this summer.
Thank you very much.
(Edited by Honjima Tsushin Editorial Staff)