September 22, 2018 (Tenrikyo 181)
Honjima Grand Church Head Ministers' Meeting
Let's participate in the Young Men's Association 100th Anniversary Commemorative Convention
Rev. Kanta Katayama
Honjima Grand Church Head Minister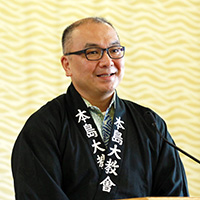 (Summary)
Rev. Yoichiro Miyamori, our church advisor, will be visiting us on October 22nd for our Autumn Grand Service. This is his first visit to our church since he became the Director-in-Chief of Religious Affairs. I hope to greet him with a lot of people, so I would like to ask your cooperation.
On October 28th, the Tenrikyo Young Men's Association will be celebrating their 100th year since its establishment. The Women's Association was begun by words of the Divine Directions, but I am told that the Young Men's Association was begun when a group of people of similar age gathered together to do something for the Path.
Welcoming the 100th Anniversary since their establishment, the members are gathering together in Ojiba for a new beginning. I believe this convention will be a turning point, so I would like to ask you to give the young men's association members a little push to return to Jiba to participate in the Commemorative Convention. At the same time, let us head ministers also share in the moment together.
This year marks the 90th Anniversary of the establishment of the Tenrikyo Ichiretsukai [Scholarship] Foundation.
The Ichiretsukai Foundation was established by the 2nd Shinbashira, Reverend Shozen Nakayama, on October 18, 1871. He contributed all of the monetary gifts received for his wedding to establish this foundation. One of the objectives stated in establishing this foundation was:
"...So that missionaries can devote themselves single-heartedly to missionary efforts without worrying about the education of their children. Also, to nurture these children, like their parents, to become Yoboku who can devote themselves to the construction of the joyous life world."
Anecdotes of Oyasama, the Foundress of Tenrikyo
#128 Oyasama's Room
Until 1883, Oyasama lived in the ten-matted room on the west side of the Nakaminami-Gatehouse, which was on the left as one faced the building. By the window of that room was a large storage chest on which Oyasama always seated Herself. The chest was about three tatami mats in size with a height of eighty centimeters, containing various drawers and storage places. When someone visited Her with children, Oyasama would take sweets out from within the chest and give them to the children.
When I was a child, I think I was in my grandmother's room a lot. When I look back to that I think it is because she always gave me snacks or something to eat. Even after I was an adult, she would say, "Are you hungry?" "I have something sweet." I now know that her snacks equaled parental love.
Nurturing human resources is an important duty of ours. It is a duty that we must constantly work at. I think there are many forms of parental love, but just like giving snacks to a child, I hope you will be mindful.
Thank you again, for your participation this month.
(Edited by Honjima Tsushin Editorial Staff)