October 22, 2022 (Tenrikyo 185)
Message at September Monthly Service
Tenrikyo Basics: Always clean the area first
Rev. Kanta Katayama
Honjima Grand Church Head Minister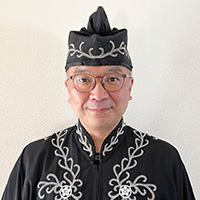 (Summary)
I would like to thank all of you for returning to Honjima's Autumn Grand Service from near and far.
Finally, on the 26th of this month, the Instruction Four will be announced.
In his New Year's address earlier this year, the Shinbashira stated, "I believe that in many ways it is important to observe Oyasama's anniversary in order to develop the path, so it is my intention that we will conduct the 140th Anniversary of Oyasama."
From these words, I interpret that the purpose of the anniversary activities is to "develop the path," and the Instruction Four will be announced for the same purpose.
In line with the Shinbashira's intention, let us once again settle in mind the ultimate goal of founding the Teaching, "to save the whole world," and let us strive to expand the path by utilizing our talents and roles.
Now, to change the subject, what is our primary duty?
I believe the answer may be "cleaning."
Whether it be at the Church Headquarters, grand churches, or branch churches, we always clean the sanctuary before performing the service.
The Song of the Service begins with sweeping away "evils."
Furthermore, when Jiba was identified, people at the time swept clean the area first, as stated in Ofudesaki:
Walk over where you have swept,
and you will come to a standstill. There, the Kanrodai.
Ofudesaki VIII:83
Before any important events, cleaning is done. I believe this is a basic practice of the path. I also believe this is a step every Yoboku takes.
Let us clean our minds through physical cleaning, read the Instruction Four thoroughly, and, toward the development of the path, let us work in unity of minds by helping and encouraging each other.
Thank you very much.
(Translation by Honjima Translation Team)
(Edited by Honjima Tsushin Editorial Staff)