June 22, 2018 (Tenrikyo 181)
Honjima Grand Church Head Ministers' Meeting
Focusing on the future, let us nurture our children
Rev. Kanta Katayama
Honjima Grand Church Head Minister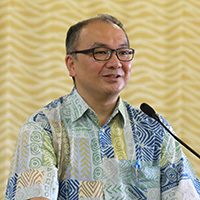 (Summary)
I would like to share two quotes from the Shinbashira's message on January 27 at the Boys and Girls Association New Year's gathering this year.
I would like for you to think in the long term of how we are going to nurture the children who have been given life by God the Parent and how we will we pass the baton to the next stage. Further, when we think of our activities, we need to think of how we want them to grow up.
It takes a long time from the time children are born until they grow up and are able to receive the Sazuke. I think what the Shinbshira is saying is that he wants us to look at nurturing activities with long-terms goals, thinking of how we want the children to grow up even as to what kind of Yoboku we want them to be.
My father could not speak English. When he went abroad, he always communicated with people through an interpreter. That would create awkward gaps in communication. So, thinking about our future, he sent my brother and I to study in America. Thanks so that, though I cannot talk about complicated things, I am grateful that I can communicate in English.
When I was a child, I didn't understand clearly the reason I was living in America, but I believe that my father thought about what would be necessary in the future and nurtured me with forethought. I am very grateful for that now.
The Shinbashira then spoke about the following:
When a human being matures, there are appropriate ways in which one must communicate with them and guide them depending on their age and level of spiritual maturity.
I believe he is saying that it is important to guide them according to their age, characteristics and virtue not just nurture all of them in one standard way.
Our third son doesn't like school that much, but since he is big, my daughter says that he looks like a rugby player. We talk about rugby with him.
I don't know if he will actually join the rugby team when he enters high school, or whether he is even interested in the sport. However, by talking about it around him, we may be opening up a path that can utilize his virtues.
There is an appropriate way to convey the teachings and to guide each person. Look at each individuals' character and further, look to the promise of the future as we nurture them to become Yoboku who are fitting to be Oyasama's instruments.
Thank you.
(Edited by Honjima Tsushin Editorial Staff)