November 22, 2018 (Tenrikyo 181)
Honjima Grand Church Head Ministers' Meeting
Let us take care of one of our parent's worries
Rev. Kanta Katayama
Honjima Grand Church Head Minister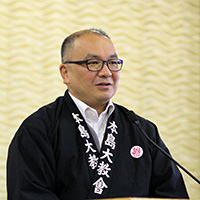 (Summary)
I would like to ask everyone a question.
Have you ever shouldered the burden of your father or mother's worry?
In last month's sermon Rev. Miyamori said, "If we take care of one of the things that worry our parent, then we can have one of our own worried taken care of by God."
Further, he went on to say, "What the Parent is most concerned about is how to save all humankind." He explained, "Those of us who are Yoboku should use the Sazuke to convey God's blessings received through the Service to people suffering from illness."
Personally, I haven't been able to take care of any of my mother's worries. Rather, I feel that it is more often the case that she is still taking care of my worries.
Rev. Miyamori quoted the Divine Directions from August 3, 1895:
Listen carefully and understand the truth of the "Parent." The parents you can see with our eyes are not the only parents. There is the Parent you cannot see with your eyes. There is also the "present parent," I say. If you see the truth of the Parent and settle your mind, everything will be clear.
He elaborated, "I think that the 'Parent you cannot see with your eyes' is Oyasama. The 'present parent' means our spiritual parent and, ultimately, refers to the Shinbashira."
Our predecessors often used the words, "filial piety." I feel that they were trying hard to some how take care of their parent's worries one at a time. I believe that God the Parent accepts that kind of sincerity and parent-and-child and husband-and-wife relationships become better and our families and people around us are led to a more favorable environment.
Let us do our best to carry out filial piety. Even if your parents are no longer with you, if you think about it, you could probably think of something that would've worried them.
Thank you for your service this past month.
(Edited by Honjima Tsushin Editorial Staff)