June 22, 2019 (Tenrikyo 182)
Honjima Grand Church Head Ministers' Meeting
Let us parents take the lead and take action to guide the children
Rev. Kanta Katayama
Honjima Grand Church Head Minister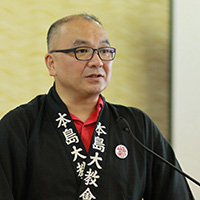 (Summary)
In this season, there are many swallows flying around the grand church, busily making nests and raising their offspring. Swallows have an admirable style of parenting -- the male and female work in cooperation to raise their young. They lay their eggs around April and May, and mostly the female swallows keep the eggs warm. Two weeks later, they hatch. The male and female birds take turns looking for food and feeding the hatchlings. The parents come and go about 500 times a day to feed the little ones. The young birds leave their nest around the time the rainy season begins.
As I observed them closely, it seems that swallows usually fly in pairs. To me, it looks like a young bird and its parent and the parent leads the young in most cases. I think this format is very important.
It is important to be flexible with a child's needs. However, I think it is rather difficult to bring out the best of the child's ability if you are just letting the child have his/her way with everything. To me, the parent should demonstrate how things are done and encourage the child to follow the parent's lead. It seems to me that the parent bird is teaching the young to relay the same to its offspring once the young bird grows fully. It looks like the parent is demonstrating how it is done by leading the way. It appears that, through demonstration, the parent is encouraging the young to push a bit more and to fly a bit further.
We should not just bend at the whim of our children but guide them by returning to the Jiba, go to our superior churches to worship, and seek out and do various hinokishin, so that they will become useful Yoboku in the future.
It has been a year since we have been shown a knot in the form of the Shinbashira's illness. Despite being taught the wonderful teachings by Oyasama, are we putting them into practice just as we were taught? Are we performing the service seriously? Are we taking care of material things? Are we living joyously?
I urge you to reflect upon the usage of your minds to see if you are living in accord with the teachings just as it was taught.
(Edited by Honjima Tsushin Editorial Staff)