October 22, 2021 (Tenrikyo 184)
Honjima Grand Church Monthly Service Sermon
"Receiving Knots With a Unity of Mind, the Joyous Life are Smiling Faces and Words"
Rev. Kanta Katayama
Honjima Grand Church Head Minister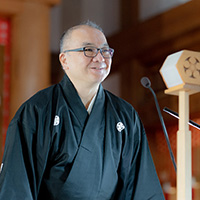 (Summary)
This month again, together with a great number of congregation present, we were able to complete the grand service smoothly. I sincerely express my gratitude.
According to the original plan, we were to have our church counselor, Rev. Yoichiro Miyamoto present to deliver today's sermon. However, it was changed to the next month, so I will be delivering the sermon. I ask for your kind attention.
Do you recall the sermon given by Rev. Miyamori a year ago today?
The sermon was about happy hormones like Serotonin, Dopamine, and Oxytocin.
I am sure you have heard about energy drinks on the market that contains the ingredient Taurine. Apparently, Taurine is an amino acid that aids in the creation of Oxytocin.
In other words, if you drink that energy drink, it will promote the secretion of happy hormones. However, the effects are only temporary.
If you think the effects of happy hormones feels joyful, don't you agree we can change this to a continuous state of happiness called joyousness?
In the Ofudesaki is says,
When this main path is truly opened,
Thereafter you will lead a life full of joy and promise.
Ofudesaki IV:77
We are taught, if you settle the teachings of this path in your mind, joyousness will surely emerge.
So today, I would like to proceed with talking about "knots," "alteration," and finally, the "mind."
First, in regards to the "knots," I will refer to three Divine Directions.
"A knot, a knot. Settle the mind in oneness. Why is this happening: here a knot, there a knot, all kinds of knots? They offer truth for settling the mind, truth for encouraging the mind to settle."
(Osashizu: September 10, 1888)
When you are shown a knot, resolve your mind. We are taught that these knots are shown to us to make a spiritual resolution.
On October 26, 1838 was a huge knot for the Nakayama family. As Miki had become Oyasama, her husband Zenbei, who had received the will of this God of Origin, God of Truth, whom he had never heard of before then, after working through the anxieties for three days, responded resolutely, "I offer Miki to You."
Without this firm resolution of Zenbei at that time, this path would not have started.
Even during times of knots, face God the Parent and resolve your mind, making a resolution in your heart first.
Further, in the Divine Directions, we are taught:
"In the absence of a knot, everything goes in one ear and out the other. You cannot listen or understand unless faced with a knot."
(Osashizu: October 9, 1889)
We are protected by God the Parent everyday through the blessings of "reducing a great misfortune to a small misfortune and a small misfortune to no misfortune at all." Based on this teaching, if we have no hardships then that must mean that we have had some sort of hardships before, whether big or small.
However, even with God the Parent's guidance, in terms of the misfortunes that are presented to us as divine guidance, we often, without realizing it, let this divine guidance pass us by and continue with our lives without a second thought.
In order to acknowledge the blessings we receive every day, we are shown hardships. For that reason, shouldn't we also be grateful for those hardships?
The third Divine Directions I would like to quote is,
When you find yourself in a situation where you think this may be your end, recall that it is a knot. Make a commitment of spirit and stand firm. If you stand firm, the Truth of Heaven will work for you. This I teach.
(Osashizu: August 23, 1904)
Sometimes we say "I feel helpless" or "I could be at a dead end," unknowingly. We are taught that those are the times of "knots."
We shall not give up easily. We are also taught that the Truth of Heaven will work for you if you stand firm and make a commitment to stand firm. If you cannot do it alone, contact your head minister or fellow followers, and/or talk to many different people to stand firm.
Through these three Divine Directions, we are taught that, in the face of knots, we are to make spiritual resolution, rediscover the blessings we receive daily and have the mind of gratitude, and to persevere and stand firm.
There is also a phrase, "From a knot, buds will sprout."
Knots are the opportunities for new beginning. As Yoboku, let us have big hearts so that the knots we may encounter will bear fruits.
Five years ago on January 26, 2016, the 130th Anniversary of Oyasama was conducted.
A year and a half later, on July 26, 2017, there was a major knot of incident in which the Kanrodai was knocked down. At the time, the Kanrodai could not be restored since the mortise were broken. As a result, there was only the only first two layers of the Kanrodai for about a month.
Further in the following year on June 7, 2018, we were shown another major knot in which the Shinbashira has come down with an illness.
For us, the Shinbashira is our spiritual parent who is connected to the everliving Oyasama.
When my father came down with illness, I often received some advice from a reverend, "the illness of a parent urges spiritual growth of children."
The illness of the Shinbashira is a major knot for us Yoboku to grow more spiritually. Let us accept it as such and strive to grow more spiritually.
Furthermore, in the world, there is Covid-19 pandemic, which has become another major knot today.
Through the series of major knots both within Tenrikyo and the world after the 130th Anniversary of Oyasama, I have contemplated number of times to seek the truth contained within these knots and I have reached a following word, which is "alteration."
In Tenrikyo Encyclopedia, "alteration" is defined as following:
Alteration: Also used as a general term. In Tenrikyo Scriptures, especially in the Divine Directions, the term is used in as it generally means, however, it is also used to point out how the history of Tenrikyo changes.
You never know how the world changes.
(Osashizu: November 2, 1893 / Trial translation)
"Alteration" as a Tenrikyo terminology, it is used as following: The Songs for the Service were composed from 1866 to 1875, and in 1882, "Oyasama altered the phrase "Ichiretsu sumasu" (Purifies all humankind equal) to "Ichiretsu sumashite" (All humankind equally purified), without altering the original hand movements. In conjunction with this, the wording "Ashiki harai" (Sweep away evils) was altered to "Ashiki o harote" (Sweeping away evils)." (from the Life of Oyasama)
Further, another interpretation includes not only above but also the confiscation of the stone "Kanrodai" in 1882, in which, the divine intention of God the Parent was altered due to circumstances newly added. As such, it is also said that the alteration of the Songs for the Service is expressed as "alteration."
In 1882, the construction of the stone Kanrodai came to a halt after completing the first two base layers and the phrase from the Songs for the Service was altered from "Ichiretsu sumasu" (Purifies all humankind equal) to "Ichiretsu sumashite" (All humankind equally purified)
The term, "Ichiretsu," means from one end to another, all, equal, equally.
"Sumasu" means to sweeping the dusts of the mind such as greed and be purified in mind, cleanse the mind, and/or to clean.
In my own opinion, we can say that the "alteration" was to change the order from "constructing the Kanrodai to purify the minds of all humankind" to "purify the minds of all humankind to construct the Kanrodai."
Due to Covid-19 pandemic, many events were canceled.
According to the announcement by the Church Headquarters, next year's Sechi Festival will be canceled for the second year in a row.
Further, the Children's Pilgrimage to Jiba was also canceled, but the Students Spiritual Development Course will be held on a much smaller scale.
As for monthly services at local churches, it will be continuously difficult to perform the service with many people in attendance.
What we can ponder, under such circumstances, is that, I think, there may be God the Parent's divine intention for us to rather purify the mind of each, rather than focusing on how we conduct activities or inviting many people
In order to purify the mind, the important thing is to connect our hearts with one another and become united in mind.
If each of us use the self-centered mind, then our minds become unclean, and it will not help to become united in mind.
If we focus on connecting with one another and/or put yourself in others' shoes, then, I think, we will naturally step closer to become united in mind.
In the Goals for Spiritual Maturity, it says:
"If you bind yourselves together in a unity of minds, I shall provide any blessings for you."
This passage from the Divine Direction was cited by the Shinbashira, in his Grand Service sermon, before he became ill.
I think the Shinbashira was looking ahead of our future and delivered these words for us.
At the time of alteration, both in the world and within Tenrikyo community, it is essential to make effort to unite our minds.
Purified mind is a clear mind. By purifying the mind, I think, you will be able to see and feel more of the kindness and sincerity of others. Then the joy will be bigger than present, and the mind will be brighter as well. This brightness in mind is indeed the "state of full joy."
There is Main Sanctuary Counseling Section at West Worship Hall of the Church Headquarters.
One day when I was on duty, working as Honbu-seinen, a female reverend told me, "Joyous life is your spoken words and your smile."
In order for us to bind ourselves together in unity of minds, smiling faces and words are essential.
We only have 7 months until the Honjima Grand Church 120th Anniversary. In order to accelerate our spiritual growth, let us unite our minds and uplift one another with positive words and smiling faces.
Thank you very much for your kind attention.
(Edited by Honjima Tsushin Editorial Staff)